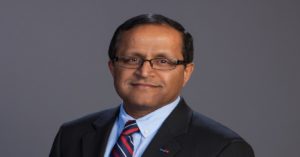 My Self Giri Devanur, I am the CEO and Co-Founder of ReAlpha Tech Corp in Columbus, OH. Prior to founding reAlpha, I served as the President and CEO of Ameri100 Inc. since its inception in November 2013. In 4 years, I scaled Ameri from $0 to $50M in revenue and completed the IPO on Nasdaq. In recognition, I was awarded the E&Y Entrepreneur of the Year in 2017.
I completed a Program on Negotiation at Harvard Law School as well as an executive education program on "building innovative products" at Massachusetts Institute of Technology before earning my Masters in Technology Management from Columbia University.
I came to America with practically nothing to my name and a bank balance of only sixty-five dollars. Through perseverance and ingenuity, I created a new life for myself. I'm still involved with Columbia University, now serving as a mentor to aspiring entrepreneurs from my alma mater.